SCORR Marketing Promotes Nine Team Members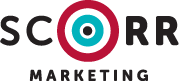 SCORR Marketing, a global health science marketing and communications firm, has promoted nine members of its team. April Roggasch has been promoted to chief financial officer; Brook Pierce to senior director of creative services and internal marketing; Drake Sauer to art director; Carrie Whiting to human resources director; Steph Todd to director of production and sourcing; Kate Covalt to senior program manager; Tess Dugan and Kacia Hughett to program manager and Dallas Bacon to executive assistant to the chief marketing officer.
As chief financial officer, Roggasch directs all accounting and finance functions at SCORR and manages annual budgeting.
As the senior director of creative services, Pierce manages traffic, timelines and productivity for the creative team, and SCORR marketing projects. She will also continue to design.
Promoted to art director, Sauer will leverage his skills in design, illustration and photography to lead creative initiatives for several clients and provide training and support for other designers.
Whiting's promotion to human resources director encompasses policies and programs to support recruitment, employee benefits, training, performance management and compliance.
Todd, who has greatly expanded the company's production capabilities, now leads a team as director of production and sourcing.
Covalt's promotion to senior program manager elevates her role to leading assigned account personnel and strategic marketing activities for several SCORR clients.
Starting at SCORR as program coordinators, Dugan and Hughett now manage several client relationships while driving their strategic plans and executing marketing tactical programs.
As executive assistant to the chief marketing officer, Bacon provides administrative support and oversees operational aspects of SCORR offices and facilities.
"Beyond excelling in their positions, this group has demonstrated strong leadership, mentorship and a determination to help SCORR grow," said Krystle Buntemeyer, senior vice president and chief marketing officer.
To learn more, visit scorrmarketing.com. 
About SCORR Marketing
SCORR Marketing is the leading marketing and communications firm in the health sciences industry. We partner with organizations involved in global research, development and commercialization of biopharmaceutical and device products and the delivery of health care products and services. At SCORR, we achieve results for our clients by applying our proven, disciplined approach to synthesize market intelligence, strategy and creativity. We have locations across North America and Europe. For more information, visit www.scorrmarketing.com.