OTTR
Target Audiences: Hospitals & medical academic centers
Products/Services: Solid organ transplant & cellular therapy software
Headquarters: Omaha, NE
Size: 40+ employees serving 70+ transplant centers in the United States & Canada & offering solutions in the U.K., Saudi Arabia, & Australia
The Company That Started It All
OTTR was the first to provide transplant software solutions that increase the efficiency of transplant management for health care professionals, reduce operational costs, and improve patient quality of life. And, since its beginning in 1993, OTTR has become the leading provider of organ transplant and cellular therapy software solutions that simplify data collection, patient tracking, and data management.
In addition to its solid organ transplant and cellular therapy solutions, OTTR was recently the first to introduce transplant management software for immune effector cell cancer therapy, a revolutionary and promising new form of cancer treatment.
OTTR initially came to SCORR seeking a website update; however, it soon became apparent that the company's brand identity was generic and out of step with its achievements. It wanted an identity that more accurately reflected OTTR's legacy as a company, and it also needed a new website that would attract more traffic and improve the overall user experience.
A strategy is only as good as the information that feeds it. Utilizing our SCORR CORE approach, the marketing intelligence team collected comprehensive data on the industry and competitors while also conducting research with internal OTTR team members and current and potential clients.
SCORR's extensive research and analysis provided the basis for OTTR's new Strategic Marketing Action Plan (Strat MAP). The first step in the Strat MAP led us to get to work on developing OTTR's new brand image.
The research indicated that OTTR's clients and industry peers perceived that the company provided an effective solution that benefited patients and health care professionals. OTTR is valued because its software is easy to use and helps health care professionals stay on track and meet regulatory requirements. The software aided in improving patient care and led to better outcomes. However, OTTR's brand identity did little to reflect or promote this value proposition.
SCORR recognized that OTTR needed a Big Idea — core messaging that was on point and a visual identity to breathe new life into its brand.
When it comes to OTTR's software, everything revolves around time. Health care professionals appreciate the time saved by using the software, giving them more time with patients. Furthermore, transplants are generally time-sensitive matters.
The idea of saving time became a key benefit featured prominently in the Big Idea: "We save you time. You give them time. Your partner for life." The concept included a clock along with visuals representing both the health care professionals and the patients, serving to indicate the time OTTR saves professionals and the time given to patients.
The visuals and core messaging that became OTTR's Big Idea served as the foundation to build a completely new brand identity for OTTR. The graphic approach, images, and copy platform worked seamlessly together to reinforce the central theme of saving and giving back valuable time.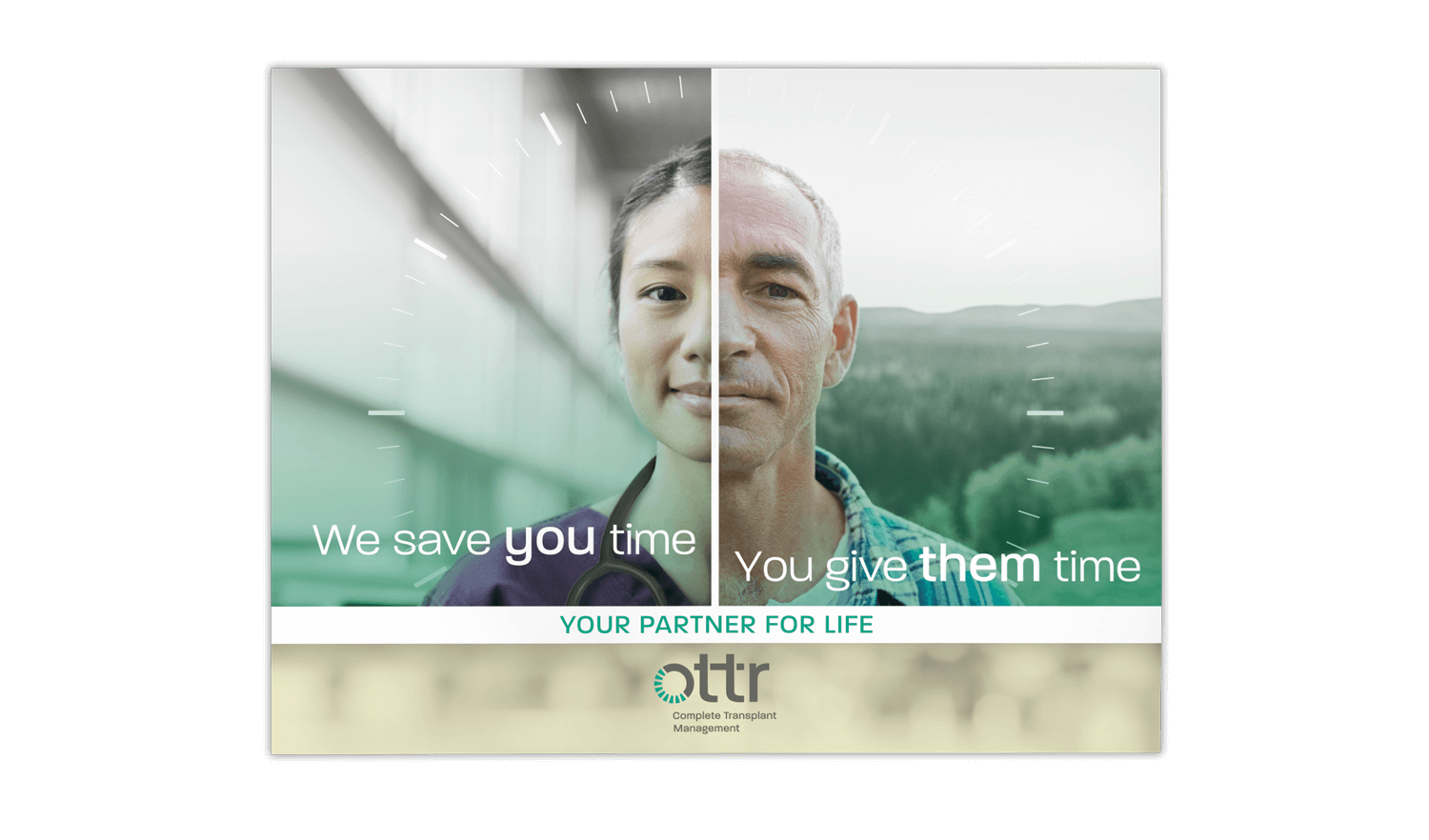 We knew we needed to honor OTTR's company history while showcasing the benefits its products currently bring to health care professionals and transplant patients. Before we could build a new website, we needed a strategy and a road map that would show the best way to get there."
Christine Wigert, Senior Account Strategist — SCORR Marketing
For the logo, the team moved away from the bold OTTR acronym, which stood for "Organ Transplant Tracking Record," since it no longer reflected all the company's offerings. The new, warmer logo, which de-emphasizes the OTTR acronym, uses an O that resembles the movement of a clock to represent the way the software tracks milestones along the patient journey to keep workflow organized and on schedule. The team also created a new tagline "Complete Transplant Management" to highlight OTTR's offerings.
Finally, SCORR organized OTTR's products into distinct hierarchies that provided much-needed clarity and differentiation. The new product names, CompleteOrgan and CompleteCellular, clearly differentiate the two software product lines while echoing the brand's new tagline.

We knew from the beginning that SCORR brought the right mix of talent and smart, strategic thinking to take our brand message where it needed to be. … We finally have a brand and a website that truly represents who we are as a company."
Mike Donnel, MHA, Co-CEO and Chief Marketing Officer — OTTR
With a fresh strategy and brand in place, it was now time to showcase the message. The Strat MAP outlined the materials and tactical components for OTTR. Within the first year, SCORR developed a comprehensive toolkit that would do the heavy lifting to bring OTTR's brand strategy and message to existing and potential new users.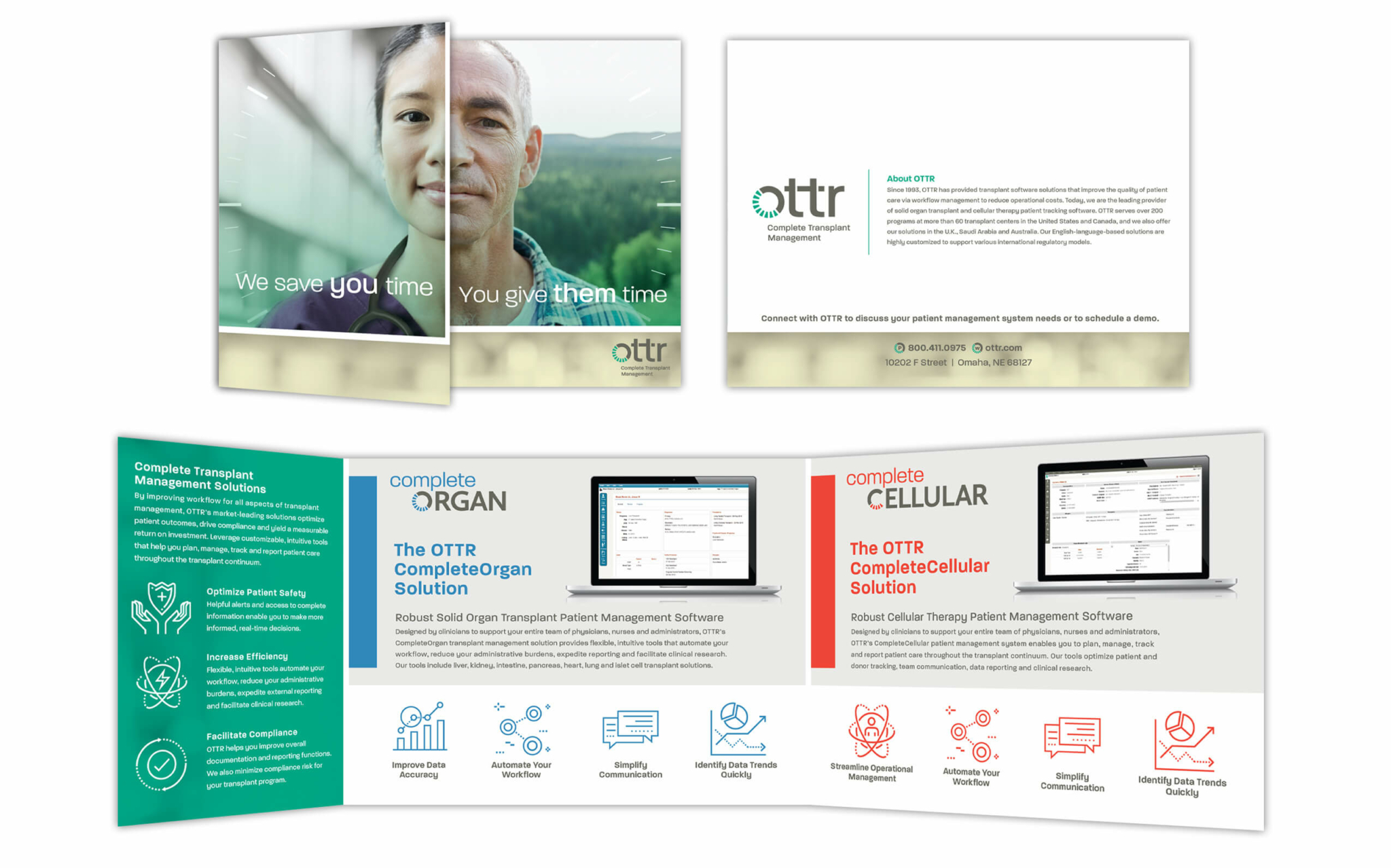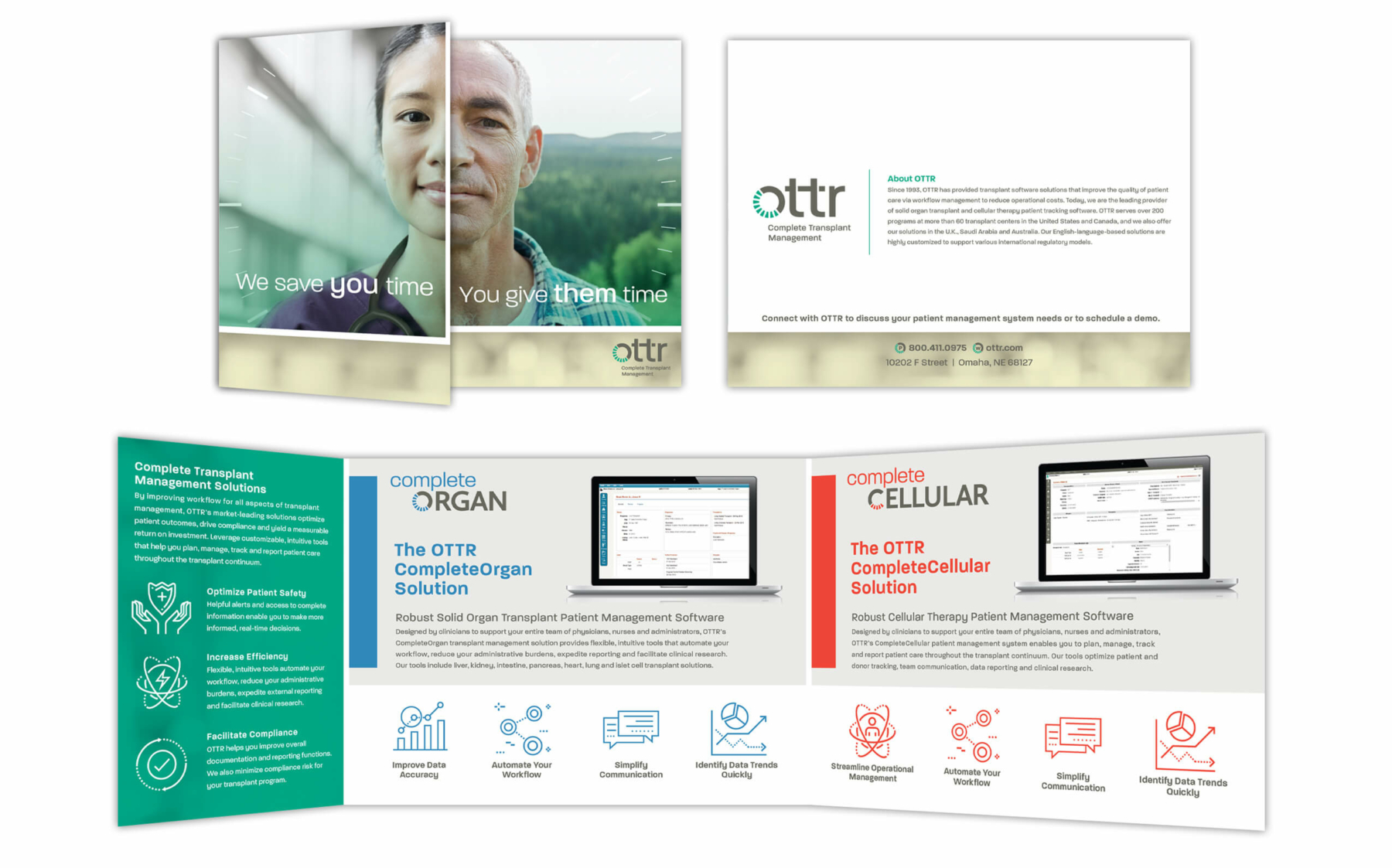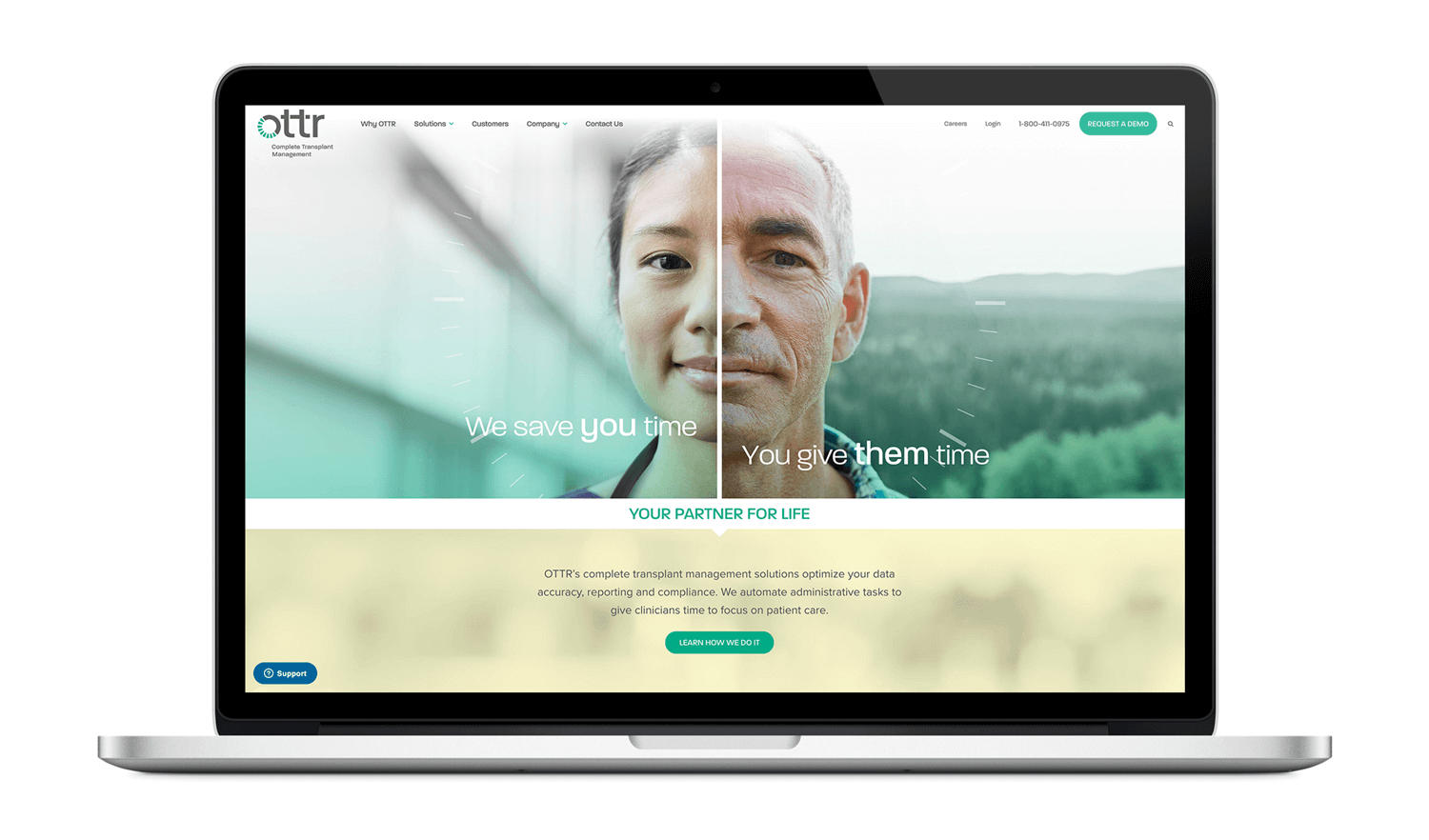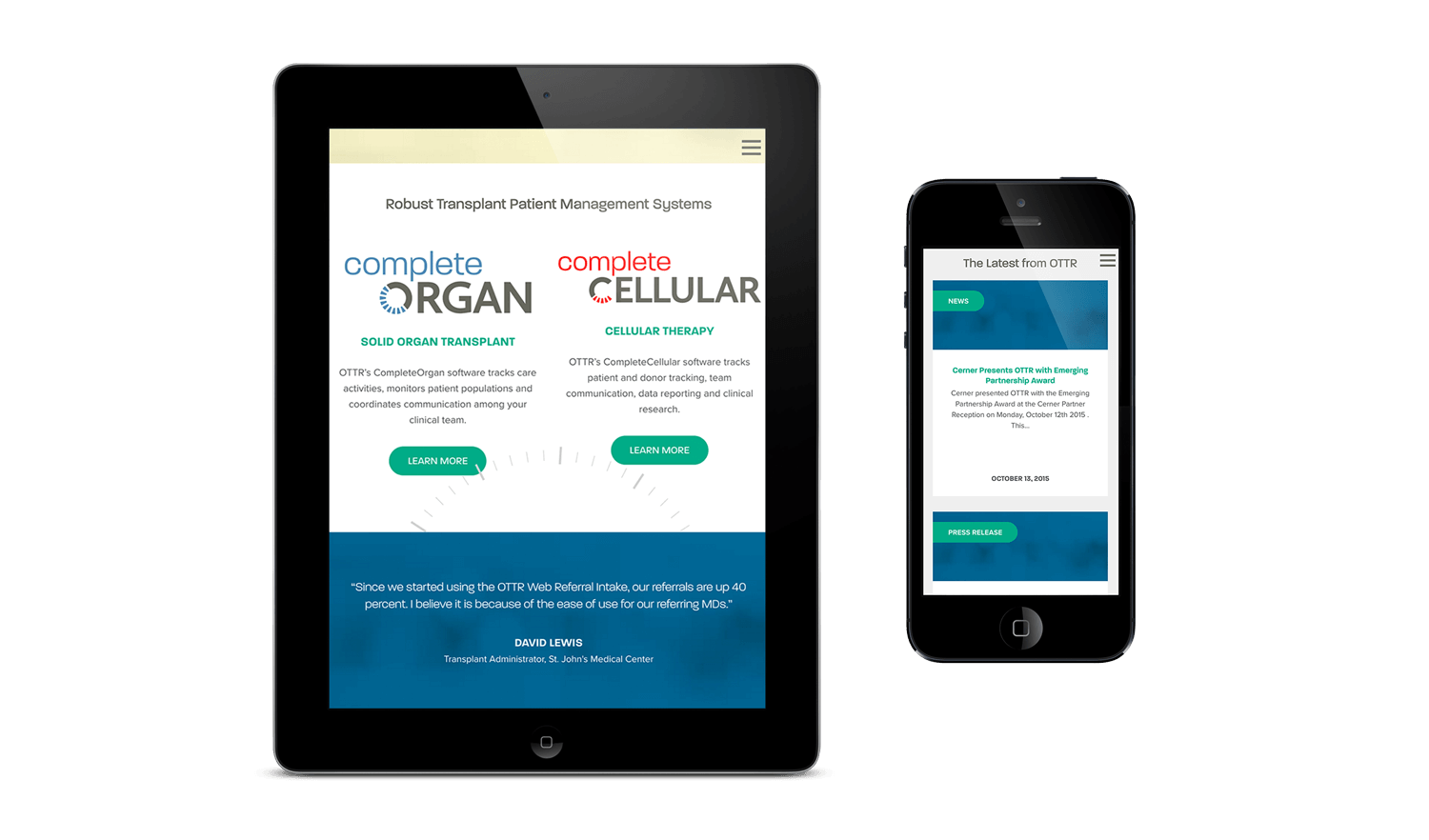 SCORR's strategy brought improved results. Following the launch of OTTR's website, ongoing monitoring revealed that the stronger brand presence coupled with the new materials dramatically increased website traffic.
Although OTTR originally came to SCORR requesting a website refresh, it recognized a bigger opportunity to refocus its brand messaging in the right direction. SCORR delivered by developing a full rebrand that truly reflects OTTR's unique combination of innovation and compassion.
From the beginning, SCORR exceeded OTTR's expectations and the company leaders were elated with the results.
1:14 Minutes

Average increased time spent on the website from Q1 to Q2, indicating an improved user experience

17% Increase

In website traffic from social media sources alone from Q1 to Q3

43% Increase

In unique page views from the April launch to Q3

25% Decrease

In website bounce rate from the April launch to Q3