Clinical Ink
BIG IDEA & BRAND LAUNCH
Target Audiences: Biopharmaceutical companies and CROs
Products/Services: eSource Ecosystem with modules for: direct data capture (DDC), eCOA, ePRO, and eConsent
Specialty: Enabling on-site or at-home data capture that facilitates RBM and virtual trials; therapeutically aligned technology for lupus, oncology, CNS, GI, and dermatology
Headquarters: Horsham, PA
Size: 125+ employees
WANTED: A Brand to Live Up To
Despite being pioneers in the global trial technology space, Clinical Ink's branding did not articulate the unique services they provide. In order to compete, they had to raise their visibility. However, attempts to develop a marketing strategy internally were fruitless. Without objective insight and market intelligence, there was no clear path forward. Ultimately, the company engaged SCORR as its full-service partner to:
Develop a brand that grabbed the industry's attention
Clarify and differentiate the company's offerings
Scale marketing with the company's rapid growth: Clinical Ink doubled its bookings and tripled its revenue in three years
To help the company attain greater market prominence, SCORR implemented the proven SCORR CORE process. During the initial assessment, we brought to light company perceptions — both internal and external — and gauged market opportunity. Before launching into our execution phase, SCORR considered:
Internal assessments, gathering and comparing the vision, goals, and market perceptions of individuals within the organization
Voice of Customer surveys that evaluated current, potential, and lost clients' input to glean perceived value not articulated by current branding, as well as perceived faults that needed to be addressed
Market intelligence with competitor analysis to weigh market opportunities and develop a unique value proposition
ASSESS
Internal Assessments
Voice of Customer
Competitive Analysis
Market Assessment
ALIGN
Identity Development
Big Idea: Branding/Campaign
Annual Strategic Marketing Action Plan
INTEGRATE
Foundational/Launch Materials
Deploy Marketing Tactics
LEVERAGE
Ongoing Management
Track and Measure
With the assessment complete, SCORR synthesized this newfound insight with our years of industry experience to deliver Clinical Ink's Strategic Marketing Action Plan (Strat MAP). We then developed the Big Idea and tagline and named the company's main technology platform.
Strat MAP: This road map details key initiatives to help the company establish its competitive advantage, such as marketing, public relations, digital, media, and trade show strategies.
Big Idea: Compelling visuals and core messaging distill all the insights and strategy developed thus far into a focused brand representation, enabling the creation of a whole constellation of foundational marketing tools.
Tagline: This phrase, closely associated with the company name and logo, differentiates and emphasizes the company's key value to customers — Confident Decisions, Faster.
Product name: Clinical Ink's software platform needed a memorable and unique name that fit their current offering but would also support future growth into new functionalities or therapeutic areas. Based on a word that reflects the clarity and insight the company provides to illuminate clients' data, we chose LunexisTM.
What's Behind the Big Idea?
A successful Big Idea helps a company express who they are, succinctly and consistently, for all audiences, including customers, vendors, investors, media, and employees. For Clinical Ink, SCORR authored: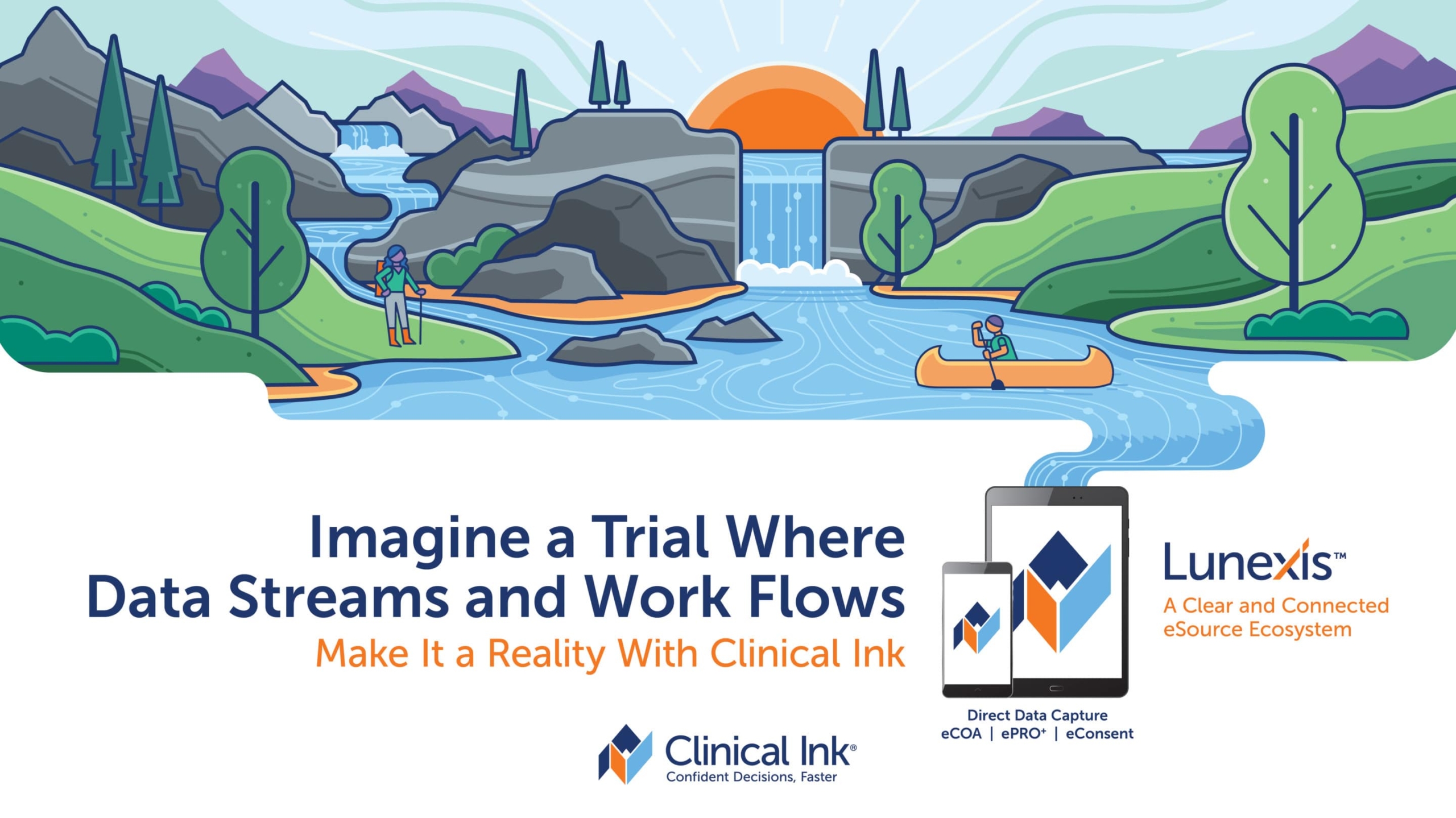 We took a bright, illustrative approach to the design, establishing a visual link between the eSource Ecosystem terminology and nature. Flowing water references the entire system that delivers data from the source to the end user, resulting in cleaner data and enhanced trial efficiency. The nature aspect conveys a sense of calm confidence and peace. The clean style will allow us to depict complex concepts and processes in an easy-to-digest format."
The New Brand Shines at SCOPE
All the new messaging, visuals, platform name — everything — culminated in a brand launch at SCOPE. Before, during, and after the show, SCORR was hard at work drawing attention to the launch and increasing awareness of Clinical Ink. In addition to new handouts and a booth, thought leadership and lead generation were the focus through:
Paid search
Organic and paid social media
Geofencing
PR/earned media
Engaging booth activities, like s'more making, and giveaways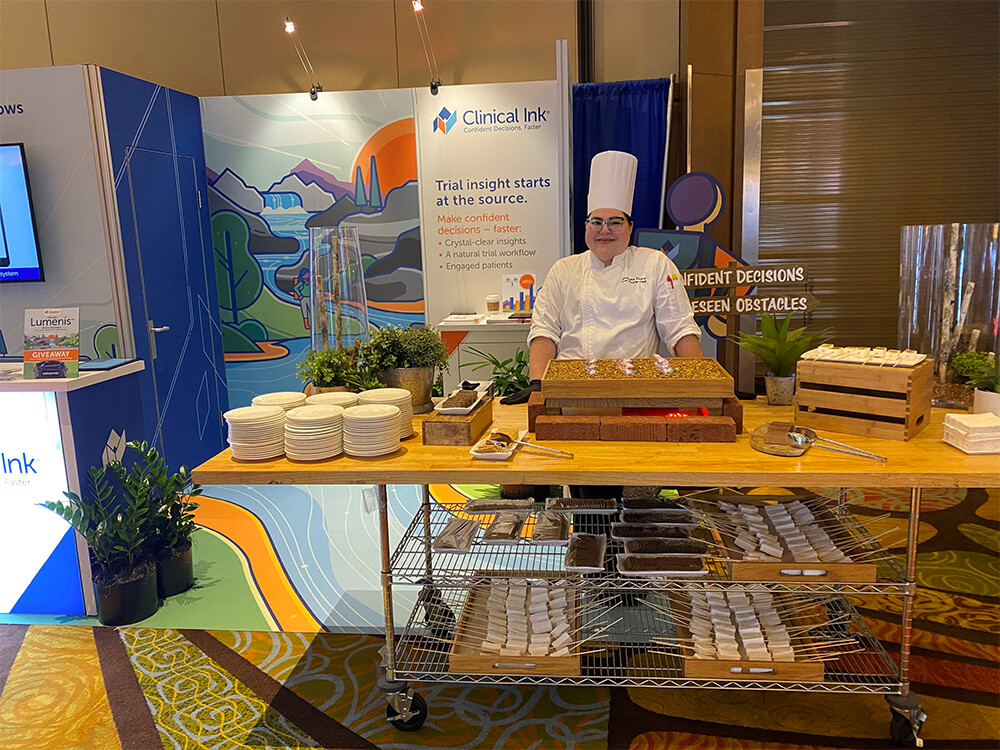 Successful lead generation at SCOPE, compared with previous year:

Marketing qualified leads (MQLs): 140% increased compared to 2018 and 186% above 2020 show goal
Sales qualified leads (SQLs): 275% increase compared to 2018 and 188% above 2020 show goal

Earned media:

Clinical Ink received 18 industry publication mentions

Web traffic growth:

Combination of tactics resulted in a 58% increase of first-time visitors to Clinical Ink's newly launched website
In my nearly 25 years of going to industry conferences and trade shows, I have not left any of them feeling like I do coming out of SCOPE today. The booth, the s'mores — it was all INCREDIBLE. But even better were the visitor reactions … and the overall interest in what Clinical Ink is all about."
By delivering entirely new, differentiating messaging and visuals, SCORR raised Clinical Ink's presence across stakeholders, from investors and customers to prospects, media, and others, making their marketing equal to the strength of their technology platform. SCORR continues to manage all marketing projects for this client and as an integrated part of the Clinical Ink team, will continue to be involved in trade shows, campaigns, digital and interactive efforts, marketing reporting, annual marketing planning and budgeting, and more.
After struggling for a couple years, we decided to fully outsource our marketing strategy to SCORR including having our existing internal resources report to our SCORR account manager. This has allowed us to leverage a far broader and deeper pool of expertise — brand strategy, campaign management, social media, web and graphic design, and all of the other details that matter to implement an effective brand. I highly endorse the SCORR team."