Elligo Health Research
HOLIDAY CAMPAIGN MICROSITE
Elligo Health Research helps solve a common problem facing drug developers today — finding and retaining patients for research trials. But, because Elligo approaches these challenges in a unique way, its target audience needs an explanation regarding how the approach works.
To do this, SCORR Marketing created an animated story to help drug sponsors, physicians, and patients better understand how Elligo's Goes Direct® approach simplifies participation in research studies for physicians and helps bring new treatments to market faster.
The awareness campaign, which has a holiday theme based off Charles Dickens' "A Christmas Carol," examines research studies of the past, present, and future:
Aptly named, "An Ellighost Story" is written in the form of a short, animated poem to emphasize the importance of participation in clinical research among physicians and patients and highlight how Elligo improves trial outcomes for drug sponsors. In the story, Dr. E is visited by the ghosts of clinical trials past, present, and future, and through their eyes, he learns how to help his current patients.
Once developed, the story was laid out on a microsite with two clear goals:
To reach current clients:
We nurtured existing client relationships by helping them feel connected to the company and inspiring them to share the story with their colleagues and friends on social media.
To meet new clients:
We hoped that this initial interaction with Elligo would spark their interest in the company and encourage them to get in touch for more information.
We directed traffic to the site with an e-card campaign sent to Elligo's list of current and prospective contacts, through targeted social media promotion on Twitter, LinkedIn, and Facebook, and via a pop-up message on Elligo's website home page.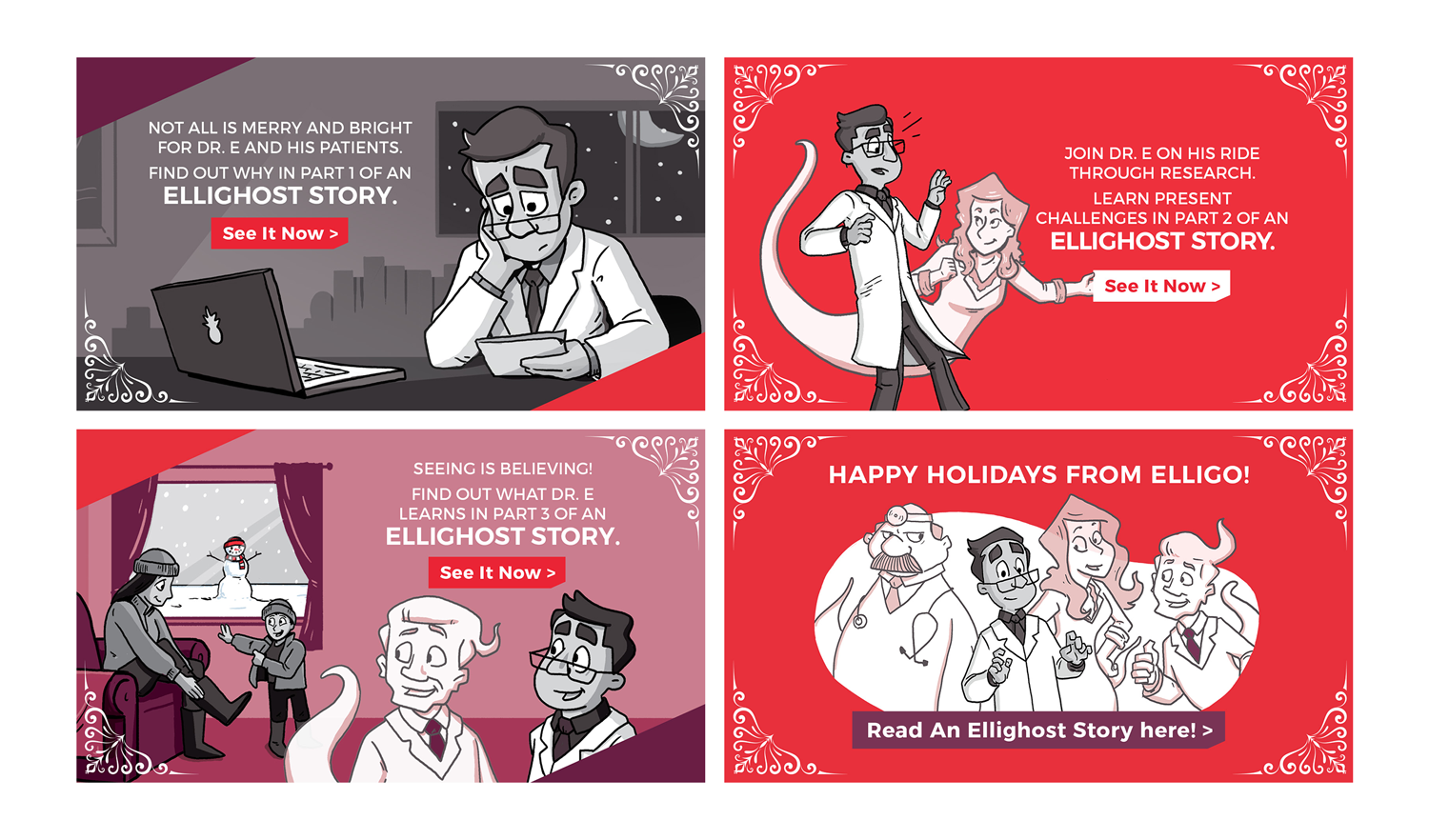 In less than two weeks, the Ellighost microsite received 660 pageviews with time on the page averaging nearly four minutes. This indicates that the majority of the traffic read through the entire story.
Additional metrics revealed that approximately 60% of the social traffic to the site came from LinkedIn where we ran three promoted posts in rotation. These posts generated nearly 6,000 impressions.
During the campaign, Elligo's website, which we linked to from the microsite and in our emails, received the second highest traffic peak in the site's history with over 800 visitors in one day.