Google Analytics (GA) is an industry-standard tool for collecting and analyzing data on your website and app traffic, such as case study downloads, landing page views, etc. It is estimated that over 52% of all websites on the internet use GA, including nearly 70% of the most popular websites.1
In March 2022, Google announced that it will stop collecting and processing data for the previous version of GA, known as "Universal Analytics" (UA), on July 1, 2023, making way for the next generation in GA, Google Analytics 4 (GA4). For those of us living in the world of annual and quarterly reporting, this might as well be tomorrow, meaning now is the time for preparation and preemptive action. Miguel de Cervantes once wrote that "to be prepared is half the victory," so let's take a closer look at GA4 right now — what it is, why it's important, and how to make the transition.
What Is GA4?
According to Google, GA4 is a "new property designed for the future of measurement." Generally speaking, this means that the system is designed to deliver more dynamic and detailed metrics while creating more privacy for users and more integrated functionality for marketing professionals.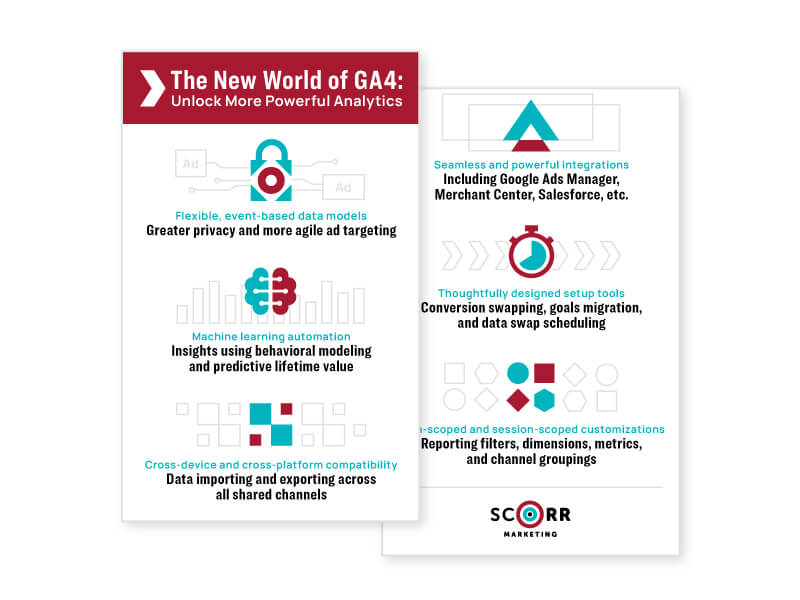 The New World of GA4
Unlock More Powerful Analytics
Most notably, GA4 converts all action types, which used to be dominated by "views" and "sessions," into a singular designation: "events." This streamlining opens the door to cookieless measurement, meaning more privacy for everyone, while also removing the unnecessary divisions between websites and apps for a more complete picture of the customer experience. In fact, there is a bevy of new and returning features slated to arrive for GA4, but they won't all arrive at once. The specific road map, which begins with Q1 2022 and includes everything from customized admin filters to direct Salesforce integration, extends all the way to Q4 and beyond.
Why Is It Important?
Most obviously, without transitioning to GA4 you won't be able to process data (e.g., website traffic or conversions) using UA after June 30, 2023. By then, if you have yet to make a successful transition to GA4, you will not only be unprepared and uninformed, you will also lose all active tracking and reporting of your website or app. Ensuring that you make a thoughtful and error-free installation of GA4 will prevent interruptions in reporting important data from your website or app, including customer feedback and client experience.
What's more, a switch to GA4 evolves your analytics to event-based, cookie-free data collection, which is swiftly becoming the standard for privacy and data governance. Greater privacy is a reasonable and inevitable expectation for the entire life science industry and other industries, and any early adopters will be ahead of the game. As web browsers, mobile operating systems, and privacy regulators move further in that direction, those already using GA4 tracking will need to take little to no additional action to remain in compliance. In fact, they will be the ones setting the standard!
What Should You Do About It?
If NOW is the time to act, then the first thing you need is a plan of action. What needs to be done? What factors need to be considered? What should happen first? What should happen next? How do these new GA4 features actually work?
All of these questions will inform a successful transition to GA4, which requires that certain steps be taken and certain systems be verified. Each step is a much larger and broader concern, simplified here to walk you through the process:
Define your data and analytics strategy: What's the customer journey?
Activate GA4 in your analytics account
Ensure GA4 is also properly activated and connected to other Google products, including Tag Manager, Search Console, Google Ads, etc.
Create a standardized format for goals, conversions, events, audiences, and any e-commerce
Ensure any filters for internal traffic are properly set up to avoid skewing your data with in-office clicks
Gain familiarity with the GA4 user interface via training and certification
SCORR's digital team includes Google Analytics-certified specialists who are fully qualified to assist with even the most complicated transitions to GA4 and other reporting. Start your journey to a successful analytics evolution with SCORR by your side!
1 Usage statistics and market share of Google Analytics for websites. W3 Techs Web Technology Surveys. (n.d.).
About the Author