Turning Attention Into Engagement, and Engagement Into Sales
Today's market is saturated. B2B companies are constantly jockeying for the attention of their target audience and fighting to make sales out of leads. Sales enablement is essential for growth, but how do you align your marketing and sales teams, balance resources, and maximize your ROI?
Powered by data, life science expertise, and ingenuity, SCORR builds and executes a custom program to generate qualified leads, enhance proposals, increase win rates, and drive better outcomes — all to propel your business forward.
We are your strategic partner in all areas of sales enablement, including:
Inbound strategy
Marketing automation
Account-based marketing
Buyer personas & buyer's journey
Competitor analysis & monitoring
Conversion optimization
CRM management & integration
Our sales enablement and marketing automation proficiency mean more for your business, just like it did for this client.
CASE STUDY: ELLIGO HEALTH RESEARCH®
Leveraging Marketing Automation to Enable Sales Success
SCORR developed and executed an integrated marketing campaign, utilizing the marketing automation tool Pardot, to engage unique prospects and guide them through a custom buyer's journey.
Elligo Health Research, a clinical research organization that supports sponsors and sites, wanted to grow the number of sites in its research network. To increase leads and engage prospects, it needed to generate and deploy a marketing campaign that not only spanned several channels but that also spoke specifically to different segments within the overall research site audience.
To engage prospects at unique points in the customer journey and target highly qualified site leads, Elligo tasked SCORR with creating the marketing materials for the campaign and executing delivery and prospect engagement utilizing the marketing automation tool, Pardot.
The campaign incorporated many channels, from email and web to paid and organic social and paid advertising, that all pushed a prospect to the website for form completion. The lead process featured a custom landing page and forms that, when filled out, initiated a fully automated process consisting of an email notification to the Elligo business development team, lead creation in Salesforce, and the collection of lead information such as the campaign, marketing activity, contact details, and more.
To better engage prospects, the content on each of the campaign's many channels was also tailored to speak to two specific audiences within the targeted research site group: sites that were new to clinical research and experienced research sites. Due to the nature of Elligo's offered services and the specific needs of each audience, these two audiences necessitated unique sales approaches and therefore different content. Once prospects reached the overall campaign landing page, they had the opportunity to choose if they were experienced or new to research. Their selection automatically placed them in the appropriate Pardot nurture list so they could receive content tailored to their needs and interests. All customized content drove prospects to new to research and experienced landing pages, respectively, upon which they filled out forms specific to their experience level. After a lead filled out the site-specific form, it was sent directly to the sales funnel with its campaign background, engagement history, company information, and other relevant details.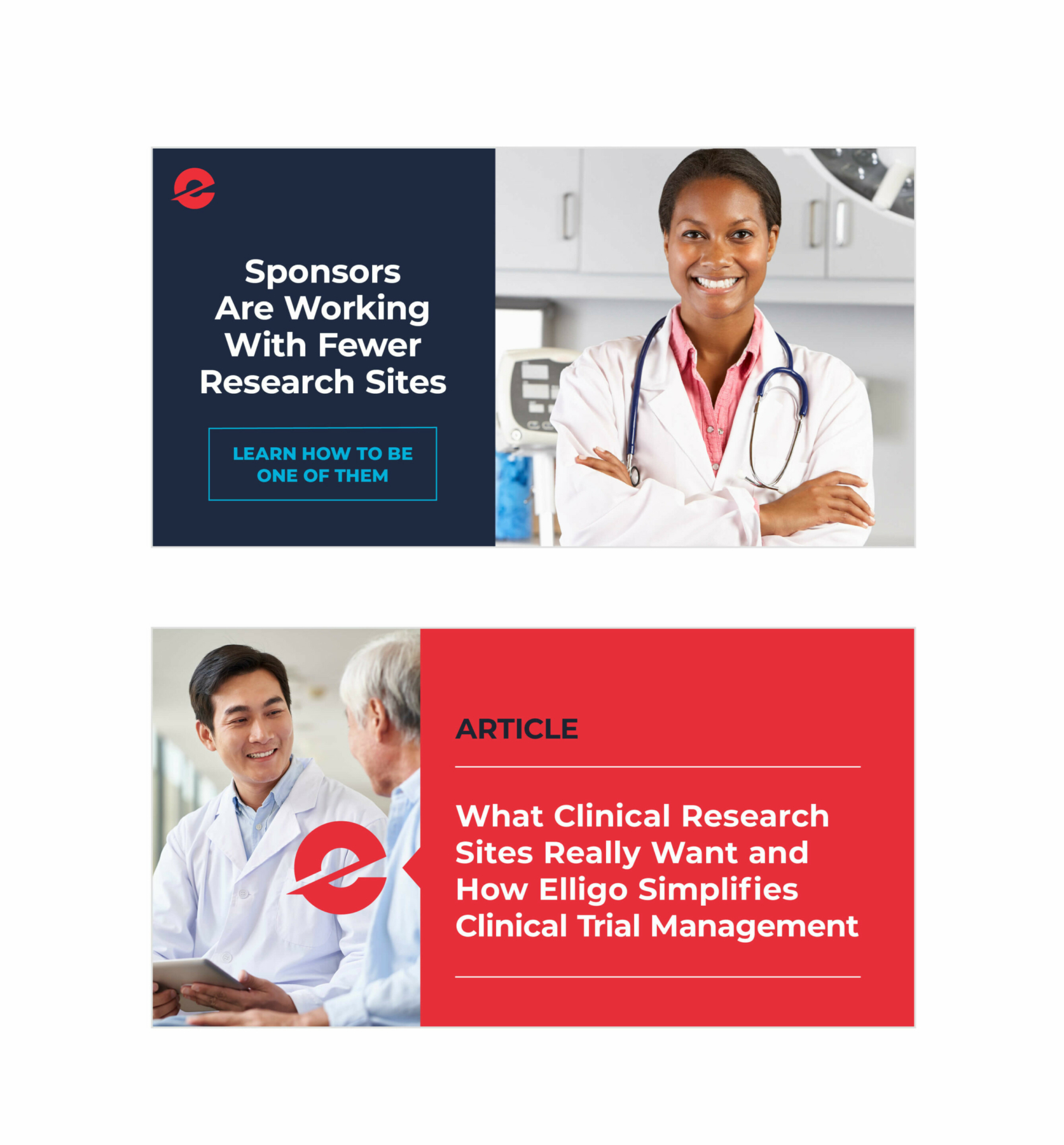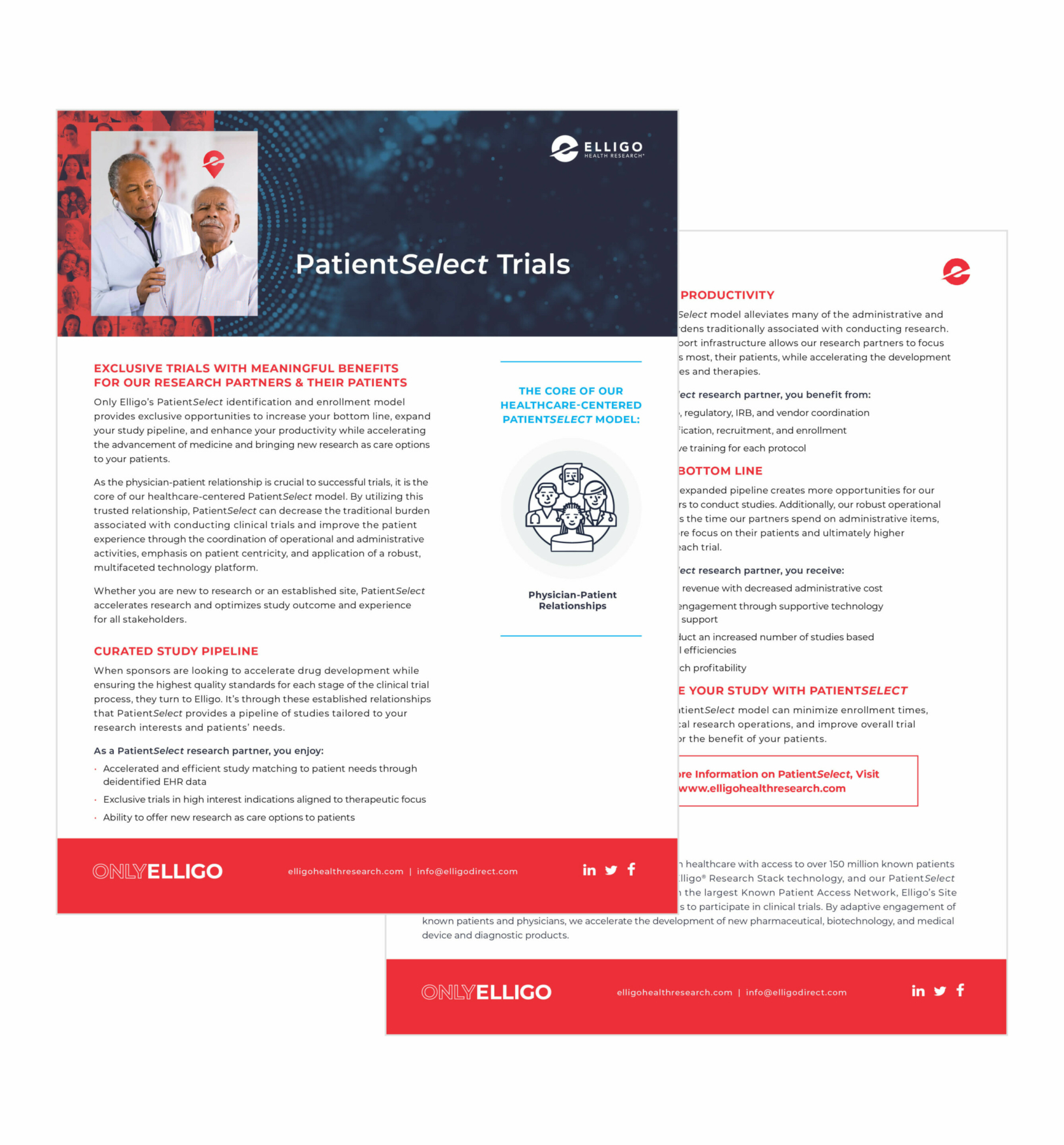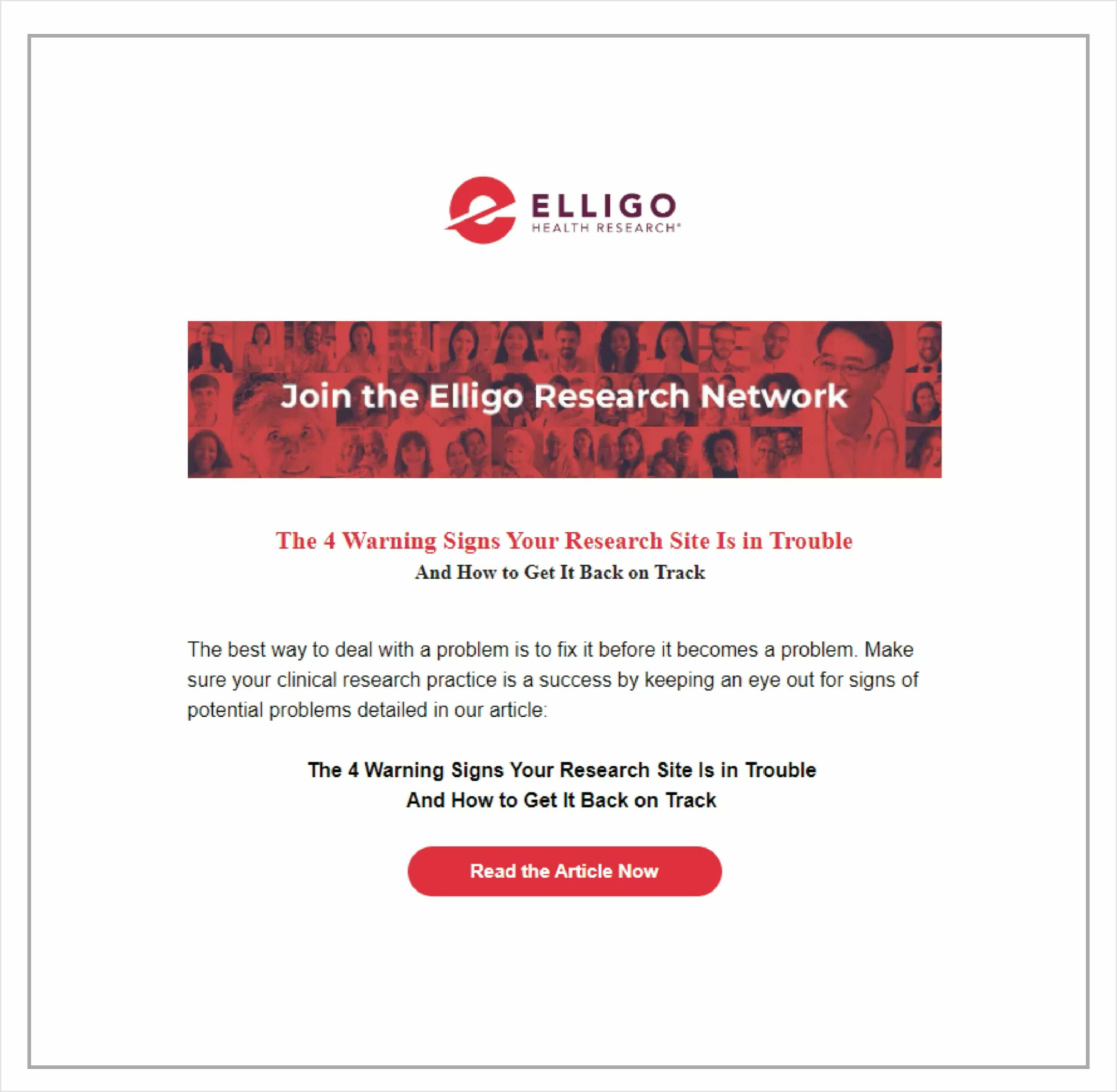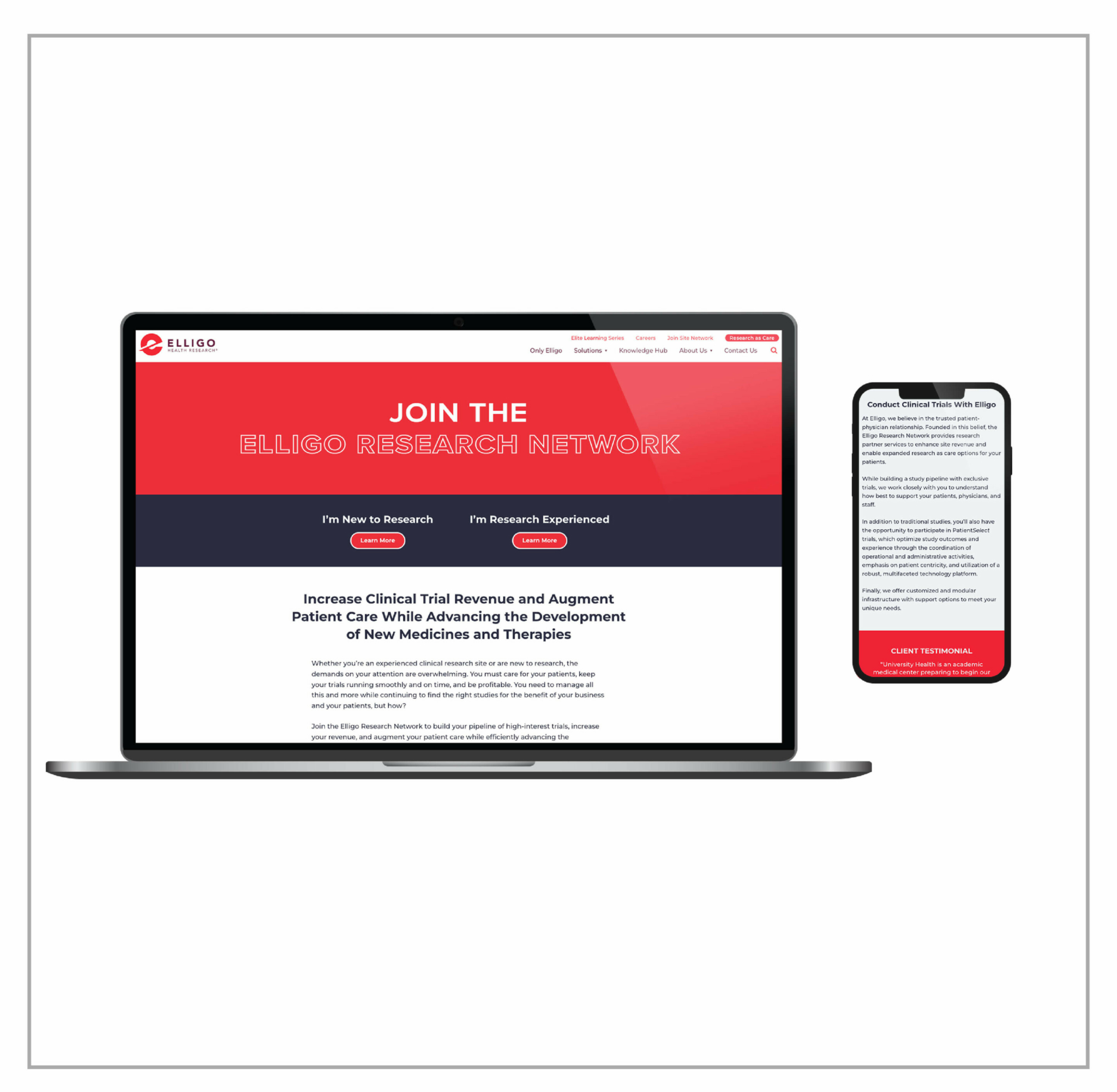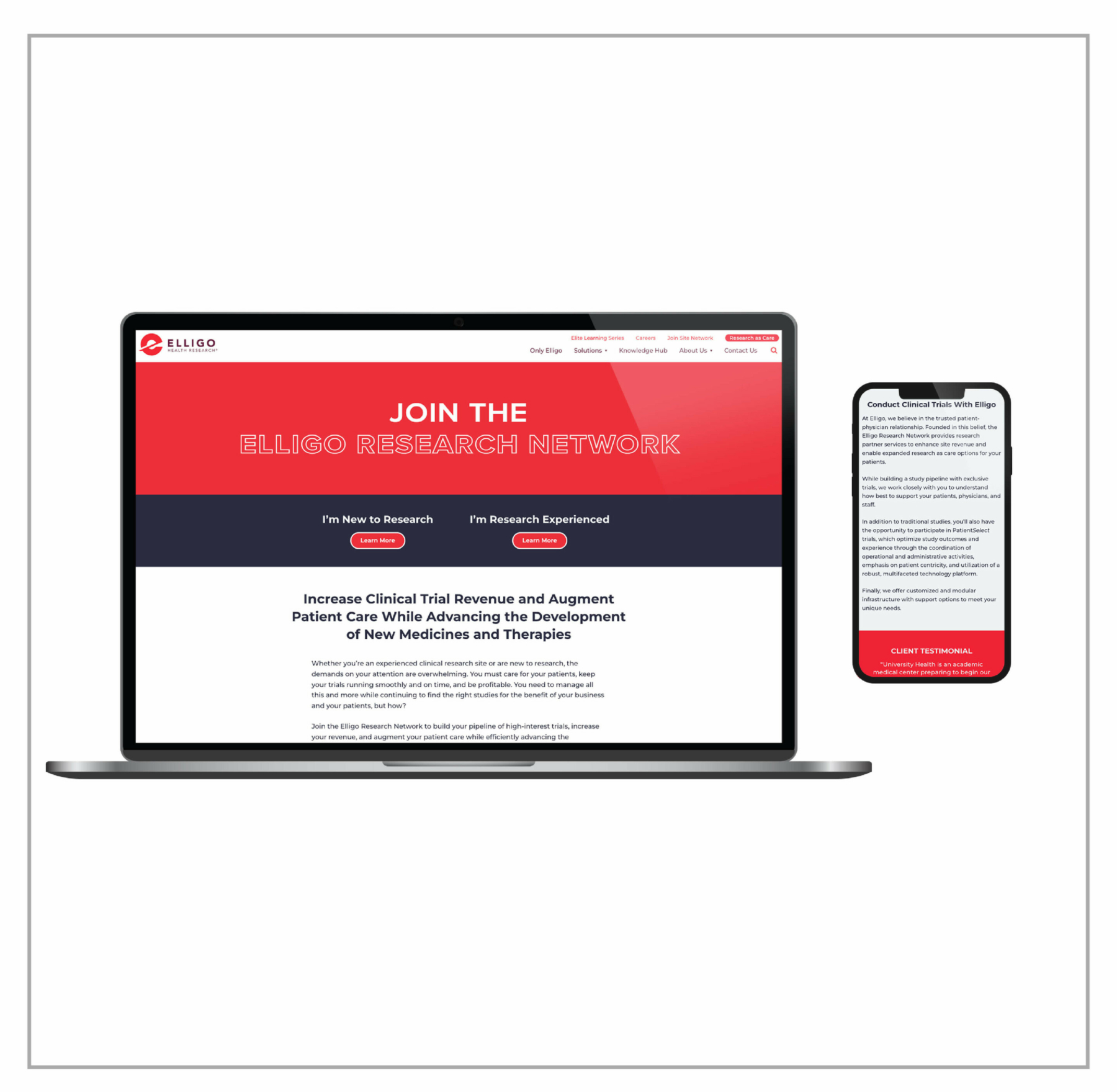 The three-month campaign earned Elligo 11,270 email opens with an 11.25% open rate and a 2.51% click-through rate — 2.5x the industry average. It also earned a 4.02% click to open rate with 332 unique email clicks, 70 form completions, 16 marketing qualified leads, and 8 sales qualified leads, translating into five new site opportunities and counting.
Our inbound research site leads have grown exponentially throughout this campaign. Not only was SCORR crucial in developing the content and marketing materials, but they also utilized marketing automation to leverage those materials and bring in highly qualified leads into our sales pipeline."