SCORR Marketing Wins Four Marketing Awards, Including Best of Show from the Public Relations Society of America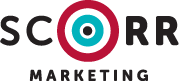 SCORR Marketing, a global full-service marketing and communications firm, recently received awards from the Public Relations Society of America (PRSA) Nebraska and eHealthcare Leadership Awards for work on behalf of its clients.
SCORR received the Best of Show honor from the PRSA Nebraska Paper Anvil Awards, for its Camargo Pharmaceutical Services rebrand campaign, as well as an Award of Excellence. In addition, SCORR received an Award of Merit for its Theorem Clinical Research (now Chiltern) rebrand campaign. The PRSA Nebraska Paper Anvil Awards honor the most outstanding public relations campaigns, programs and tactics from the past year.
Krystle Buntemeyer, senior vice president and chief marketing officer at SCORR, will discuss SCORR's work on behalf of Camargo at the PRSA's professional development lunch, Jan. 5 in Omaha. "We've helped this client establish itself to the point where the company has become the clear experts in its niche area," Buntemeyer said. "By rebranding, Camargo is ready to enter its next phase of growth."
SCORR also earned a Best Marketing Campaign Award from eHealthcare Leadership Awards for its work on the Clinical Research Management Group website. The eHealthcare Leadership Awards exclusively recognize the health care and pharmaceutical industries' top websites and digital communications.
"We are extremely proud to be recognized by our peers for our brand and digital work," said Lea Studer, vice president of marketing communications at SCORR. "We take great pride in providing our clients with award-winning strategic and creative solutions that help them reach their marketing goals."
About SCORR Marketing
SCORR Marketing, a full-service marketing and communications firm, is dedicated to achieving results for its global clients by combining strategy and creativity. SCORR has locations across North America and Europe. For more information, visit www.scorrmarketing.com.