SCORR Marketing Reveals Drug Development Services Marketing Trends in 2015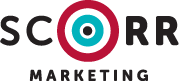 (Kearney, Neb., Dec. 9 2015) — SCORR Marketing, a global full-service marketing and communications firm, released its third annual survey report that identifies current marketing trends in the drug development services industry.
The Drug Development Services 2015 Marketing Trends Report provides insight on how companies in the industry are meeting their marketing goals. Do companies rely on internal marketing teams or outsource? If they outsource, are they satisfied with their agency's performance? What marketing goals are the most important?
"The results from the survey told us what companies in the drug development services industry are doing and identified areas for improvement," said Joanna Disley, director of market intelligence and European operations. "Our report analyzed how these companies are incorporating digital marketing, utilizing social media and determining the best mechanisms for lead generation."
Again this year, the results of the survey concluded that a majority of drug development companies seek an agency that has industry experience. "Partnering with a marketing firm with industry knowledge and expertise can help you develop a more strategic marketing plan and better differentiate your products and services," said Disley. "However, your marketing partner needs to be as accountable as your internal team to meet your goals.
"Digital marketing has become an essential part of the marketing mix, yet many respondents expressed dissatisfaction with the effectiveness of their digital tactics," said Disley. "Companies need to develop an integrated marketing plan and identify ways to repurpose content."
The survey also revealed that many companies make marketing decisions without establishing accountability or measuring results.
"Assessing how your clients perceive you and your competitors should be one of the first steps you take as you develop your marketing strategy," said Disley. "You also need to measure the performance of your marketing tactics so you know what is working and what isn't. Then you can start making adjustments to your plan."
For additional insights from the Drug Development Services 2015 Marketing Trends Report, visit scorrmarketing.com to download the full report for free.
About SCORR Marketing
SCORR Marketing, a full-service marketing and communications firm, is dedicated to achieving results for its global clients by combining strategy and creativity. SCORR has locations across North America and Europe. For more information, visit www.scorrmarketing.com.