Four Promoted at SCORR Marketing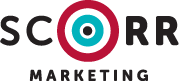 SCORR Marketing, a global health science marketing and communications firm, announces the promotions of Lauren Naughton to business development director, Ashlee Swanson to copy director, Marc Bacon to lead developer and Holli Kroeker to PR and media manager.
In her role, Naughton will be responsible for the drug development services sales strategy, annual sales plan and execution of the plan to reach SCORR's sales goal. She oversees the business development team and will be responsible for training and coordinating sales processes for SCORR's new health care initiative.
With more than 10 years of health science marketing experience, Swanson leads the copy team in creating compelling messaging that drives brand awareness, establishes differentiation and builds reputation for SCORR clients across all target audiences and global channels. In the last year, she has worked on numerous campaigns for a variety of clients, including Chiltern, endpoint and MI Bioresearch.
As lead developer, Bacon develops creative and functional websites, web applications and other online content. He is always on top of new and emerging web practices and ensures that digital marketing materials are fully optimized across all platforms.  Bacon has produced numerous websites for SCORR clients including Chiltern, Cryoport, Elligo Health Research, endpoint and MI Bioresearch.
As the PR and media manager, Kroeker is responsible for all public relations including press releases, press events, editorial pitching and public relations plans. She also oversees the strategy, development, placement, negotiation and management of global and local media plans.
"Lauren, Ashlee, Marc and Holli demonstrate our commitment to being the Health Science Experts and how we capitalize on our strategic and creative strengths," said Lea Studer, senior vice president of marketing communications. "As the competitive advantage for our clients, SCORR relies on their knowledge and expertise, and their dedication will continue to drive their success."
To learn more about SCORR, visit scorrmarketing.com.
About SCORR Marketing
SCORR Marketing is the leading marketing and communications firm in the health sciences industry. We partner with organizations involved in global research, development and commercialization of biopharmaceutical and device products and the delivery of health care products and services. At SCORR, we achieve results for our clients by applying our proven, disciplined approach to synthesize market intelligence, strategy and creativity. We have locations across North America and Europe. For more information, visit www.scorrmarketing.com/.