Industry expertise and marketing expertise are the top two attributes life science companies look for in a marketing agency, yet agency performance in scientific/technical writing generally receives low marks.
1 Health Science Industry Marketing Trends Report. SCORR Marketing, 2018
Why? What makes it so challenging to arrive at rich, distinctive life science content that captivates the market when your leaders have extraordinary insights and your team is spearheading some of the most exciting work in your field? A look at the copywriting process for producing an article or white paper can shed light on why some efforts excel and why many fall short.
A Dedicated Writer Who Gets to Know You Can Eliminate Déjà Vu
Every client is different. Each has unique value, services or products, business goals, personality, voice, brand standards, likes and dislikes, and other particularities. Our copywriters become experts on the companies we serve. Because of this, we start each project ahead of the game and our clients conserve the time and effort of orienting new writers.
To Write About Science, Writers Need to Know Science
The first step in writing any piece of copy is researching and reviewing information sources. For us, these include:
SCORR proprietary data sources (e.g., editorial needs, search traffic, etc.)
Client-provided informational and sample materials
SCORR market intelligence, such as market research, industry trends, or pipeline data
Life science copywriters must have the knowledge and experience to assimilate these materials and discern what is relevant. A specialized therapeutic area or product may even require a writer with a very specific writing background. Too often, inexperienced copywriters either don't fully comprehend the topic or aren't able to focus on the most important points. When this happens, subject matter experts (SME) must spend extra time explaining and editing. Ultimately, a copywriter more familiar with the subject is better equipped to influence a knowledgeable audience with relevant and accurate content and a confident voice.
The SME Interview Yields Unexpected Pearls
For subject matter experts, time is precious. However, for a substantial piece, a half-hour SME interview is invaluable to answer any questions that remain after our research and careful review of provided materials. Not only does this opportunity to connect provide clarification and a branded twist, but it can unearth critical nuances. An experienced copywriter will make the most of this time to fill information gaps, learn more about the audience and their pain points, and discover what the SME most wants to convey and why they are passionate about this subject. While a phone interview is preferred, we know that SMEs are busy. We can email the questionnaire or even work off of a recorded interview if our schedules don't align.
Early Course Correction in Outline Form May Save Time
Sometimes, source materials provide an adequate outline. However, when multiple sources are being pieced together or the SME interview is the main source, an outline review step can prevent wasted writing and excessive revision.
Telling the Story by Marrying Science With Marketing Engages the Audience — and Gets Results
To succeed at this stage, your copywriters must understand the industry inside and out — and how to write about it.
Basic content must be accurate, complete, and useful to the intended audience — which it won't be if any dumbing down occurred during research or interviewing.
Every area has its own language. For authenticity, the right scientific vocabulary must be used correctly and appropriately. This kind of authority is almost impossible to fake.
The writer must "get" the scientific audience's sensibility and set a trustworthy, professional tone. Marketing-speak will alienate a scientific audience accustomed to hard facts.
Clarity is king. The writer must understand the material well enough to be able to distill it and explain it completely and succinctly.
Clients have distinctive voices and wish to be represented in particular ways. These idiosyncrasies must be reflected in the copy. A messaging platform can help speak to the topic the same way your expert would.
Feedback Builds Authenticity and Precision
For the best possible content, you should be able to count on your copywriters to listen to any comments or concerns and edit appropriately.
Repurpose to Get More From Your Investment
A good piece of copy can yield dividends. Your copywriter should be able to help you:
Chop it: Fractionate the message for social media, then link to the larger piece.
Branch it: Grow a new article by expanding one section or bullet point.
Pitch it: Find an interested journal and rewrite a white paper or video script as an article.
Blog it: Change the tone, maybe break it into parts, and publish it on your blog.
Send it: Circulate it to prospects as evidence of thought leadership.
Show it: Turn your content into a webinar, podcast, infographic or video to showcase on your website or at trade shows.
---
How to Land Life Science Content That Speaks to Your Customers
Whether you need to position your company, spotlight your novel approach, or control the conversation, be certain your copy department can go the distance before you hire.
Ask us how the SCORR strategists and writers can translate your scientific expertise into effective and engaging material that ensures the right people notice your competitive advantage.
Your due diligence will eliminate frustration and wasted time and money, and your high-impact content will cut through the clutter to engage the greatest prospects throughout your sales pipeline.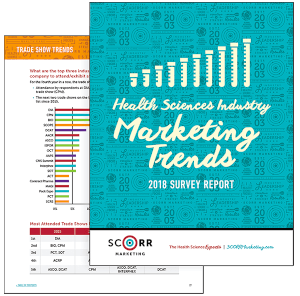 For more insight into what health science companies grapple with, read the Health Science Industry Marketing Trends Survey
---
[1] Health Science Industry Marketing Trends Report. SCORR Marketing. 2018. https://www.scorrmarketing.com/resources/health-science-industry-marketing-trends-report/.