Put Your Worth Into Words
Recently, while attending the OnBrand Conference, I saw a terrific presentation by Su Mathews Hale, CEO and CCO of Su Mathews Hale Design. She has built many top consumer brands such as Samsung, Citibank, Walmart, Disney, Hyatt, and Taco Bell, to name a few.
She told a story about the process she used to help one company find the real value its target customers were seeking. Her anecdote resonated with me. Too often we hear that our clients are winning or losing bids based on price. Customers will always want something for less. While this is a functional reason, when we research further, we discover deeper, emotional motivations behind their customers' purchase decisions.
At SCORR, we know building your company's brand begins with creating your value proposition — the value you bring to your clients. While this seems like it would be easy to define, many clients struggle to come up with a succinct message.
Review and Refresh Your Value Proposition
Think you already have a value proposition? How sure are you about this? Over time, your value proposition can change for many reasons such as:
Changes in the CRO or life science industry
A merger or acquisition
Additional new services
Competitors modifying their offerings
Even in the absence of these changes, we recommend reviewing your value proposition annually to ensure it still aligns with what your customers actually want and the benefit you bring.
Gather Background Data
The first step to defining your value proposition is to focus on the biggest challenges your customers experience and how you can solve them.
At SCORR, we begin by conducting internal assessments to understand your company's unique story and to determine what you think is your target audience's core desire and how you believe it should be solved.
By surveying your customers, we identify why your customers chose your company, their key purchase criteria, and which services or products they are most satisfied with. This information is a good start, but it's only part of the equation.
We also conduct a thorough competitor analysis to determine your company's unique value. The objective is to find where your company delivers and your competitors do not; this is your opportunity gap. By reviewing your competitor's messaging, the way they position themselves, and the message delivered by their business development team, you will get a good idea of where they fall short in terms of delivering value.
The below illustration shows how we map perceptions to identify key opportunity gaps. By working this into your company's value proposition, you can position your message to gain market share and capitalize on these missed opportunities.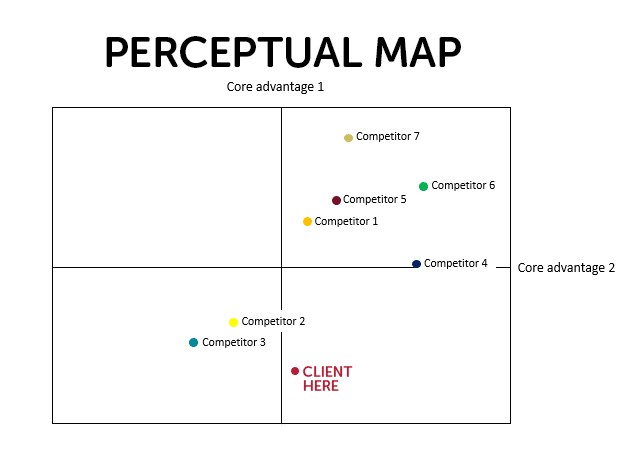 Create Your Value Proposition
Create a statement that demonstrates these three critical elements:
How your company solves the target audience's problems
The specific benefits your company delivers to your target audience
The compelling truth: the proof that you can deliver the benefits, which tells life science prospects why they should buy from you and not from your competitor
Once you have your value proposition, you must articulate it to customers verbally and visually — something that we call your Big Idea. Your Big Idea is the interpretation of your value proposition through compelling visuals and core messaging. A great example is the value proposition SCORR created for Elligo Health Research, which we also communicated in its Big Idea:
When you develop your unique value proposition and convey it consistently to all your audiences, your customers will hear, see, and feel your value.
Partner With the Health Science Marketing Professionals
No time to create your company's value proposition? No problem! Talk to the team of experts who can do it for you.
About the Author