One of the questions we receive most often is how companies within the life science industry can increase brand awareness. The biggest challenge is a lack of differentiation. Too often, CROs, CDMOs, and other service providers define themselves exactly as their direct competitors do: as companies that provide superior customer service, high quality, global reach, flexibility, and so on. While a customized strategy is ideal, we want to share some best practices you can incorporate to help your company stand out from the sea of similarity so that potential clients notice your company and keep it top of mind.
1 – Listen Before Speaking
The best way to raise awareness for your organization is to create a differentiated brand. At SCORR, we begin the process by extensively researching the actual client perceptions of the brand. External perception surveys from current, lost, and potential clients often reveal more specific rationales and very distinctive reasons clients choose or do not choose to work with a company.
This information provides you with a valuable opportunity to move away from the generic benefits touted by other companies, enabling you to position your company in a way that speaks to what your clients really want. Use this research to help you define the brand messaging that will inform other areas such as your graphics and marketing plan. There is no better path toward a cohesive program than surveying your clients, listening to what they want, and building brand messaging that speaks to them.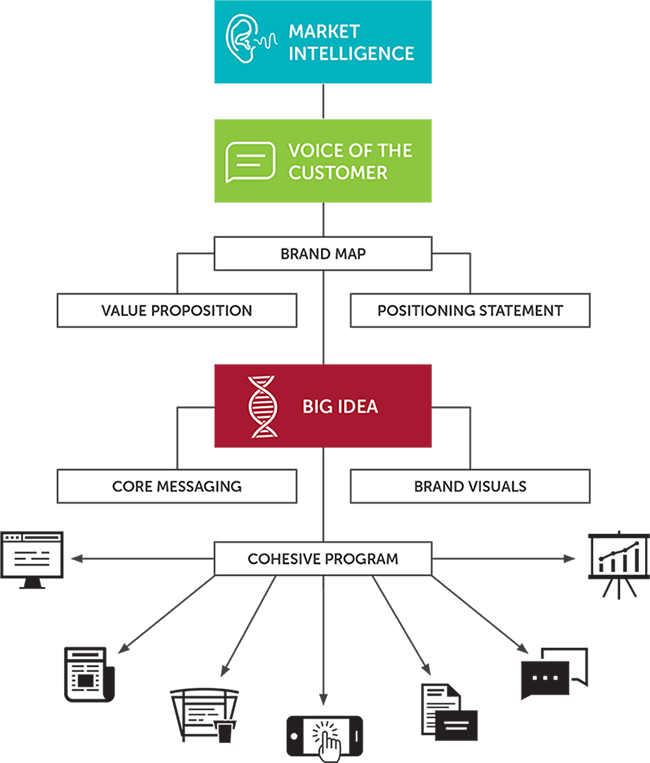 2 – Wow Your Clients
Your company's visual brand is the first thing potential clients will engage with. Your marketing must be different from your competitors' — even if you are forced to tiptoe outside your comfort zone from time to time. It's critical to reflect a clear value proposition which communicates that difference, making potential clients stop and take notice in a positive way.
3 – Evolve Your Position as the Industry Changes
So much is changing within the health care industry — you have an opportunity to gain awareness by being at the forefront and position your company competitively. Hot-button topics like data collection and mining, the use of artificial intelligence (AI) to inform drug discovery, and changes to patient recruitment and retention strategies are some of the trends that should be informing your service offerings to keep you ahead of the competition. As you adjust your offerings, make sure you deploy mindful strategy and messaging to gain awareness for your company and brand.
4 – Speak to Your Audience
Even the best program cannot succeed if it's not written with your target audience's own differentiators in mind. Three considerations for your brand:
Customize your brand messaging to fit each of your target audiences or personas. This allows you to reach potential clients more directly, nurture your leads, and lead them more effectively through the sales funnel.
Geographic differences are an important part of crafting communication messaging that speaks to your target audiences. North American and European content should be drafted with cultural differences in mind. Don't forget that the Asian market is the largest growing geographical segment for clinical research. It's important to have clear goals and a defined strategy for reaching this important market effectively.
Finally, when speaking to members of the scientific community, craft content that is evidence-based. Steer clear of content that contains too much marketing jargon. Our experience indicates that the most effective way to reach this audience is to use factual information that is presented in an engaging way.
5 – Give Your Company a Face
Create content and flex your thought leaders and subject matter experts (SMEs). Giving them opportunities to share their knowledge will increase your company's visibility as an industry leader. A few examples are listed below:
Have SMEs and thought leaders write blog posts, articles, white papers, product pages, and e-books
Feature leaders in online webinars, videos, and podcasts
Promote SME attendance at trade shows
Host or sponsor an industry event where your SMEs can speak and interact with potential clients and others in the industry
6 – Be Everywhere Your Prospects Are
With a differentiated brand created, you are ready to deploy it across all channels to reach your audience. You'll get the best results by using an ongoing, integrated approach like the one outlined in the graphic below. Regular and consistent messaging across multiple channels will help engage your prospects, drive traffic, and communicate the value of your brand.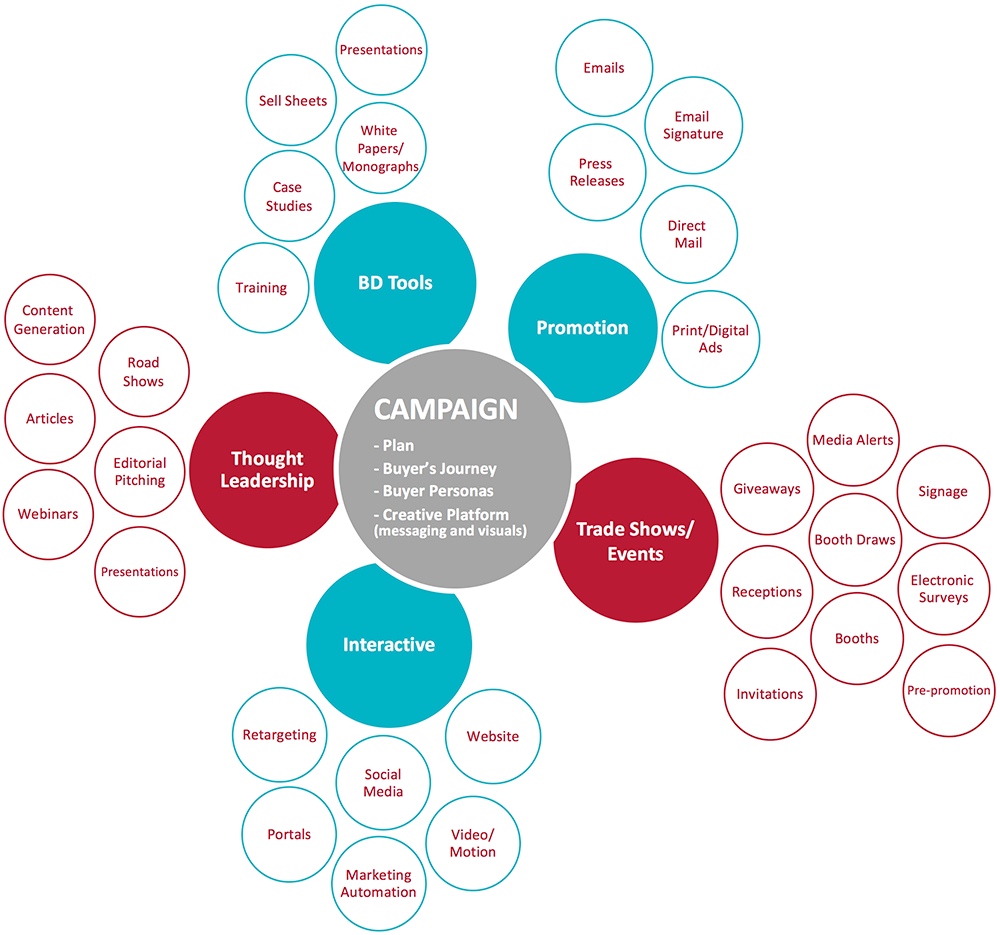 7 – Measure Twice — or More
From the beginning, it's important to determine what success means to you in a brand awareness initiative and assign metrics to fit. For example, are you preparing for a sale or planning to rebrand following an acquisition? Or, are you looking to support a sales goal and need to know your lead conversions?
Conducting a performance audit of your marketing channels prior to beginning a new campaign will tell you where you're starting. From there, you should determine what benchmarks you would like to hit and when. Anywhere from six months to a year is a typical time frame to conduct another media audit.
8 – Partner With Health Science Marketing Experts
Increasing brand awareness can be overwhelming but having a team of experts on hand can simplify the process. Talk to us today.
About the Author