Cinda Orr Named PharmaVOICE Top 100 Honoree
August 4, 2020
Category: SCORR News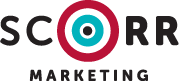 SCORR Marketing, the leading full-service marketing and communications firm in the health science industry, is proud to announce that the company's CEO, Cinda Orr, has been included among PharmaVOICE Magazine's 100 most inspiring individuals in the life sciences industry.
The PharmaVOICE 100 is the only awards program to recognize individuals spanning all sectors of the life sciences industry including academia, nonprofit organizations, large pharmaceutical companies, emerging biotechs, and other innovative organizations that provide molecule-to-market services in support of patients around the world.
"I am extremely honored to be included in this year's PharmaVOICE 100 along with a roster of incredibly talented and innovative individuals in the life science industry," said Cinda Orr, founder and CEO of SCORR Marketing. "Our goal has always been to support our partners with integrated programs that not only help our clients achieve their goals but also improve the health and well-being of patients worldwide."
Cinda Orr entered the health science industry over 40 years ago. She has worked side by side with people across the drug development continuum — from discovery through commercialization as well as in health care. After working on the client side for more than 25 years, Orr identified the importance of having an industry-focused strategic marketing partner. Utilizing her experience, she founded SCORR Marketing, a global marketing and communications firm that primarily partners with life science clients around the world to grow their businesses, in 2003.
In addition to this prestigious appointment, Orr was highlighted in PharmaVOICE's Women of Influence article, highlighting more than two dozen women in influential positions within the life science industry.
About SCORR Marketing
SCORR Marketing is the leading full-service marketing agency for the health science industry. With global capabilities, SCORR partners with companies involved in the research, development, and commercialization of biopharmaceutical and device products, as well as those delivering health care products and services. SCORR provides integrated programs to help clients achieve their goals and improve health and well-being worldwide. Learn more at scorrmarketing.com.