Work Set to Start on Renovations for Howard County Medical Center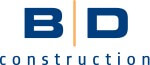 BD Construction, Inc., one of the Midwest's leading construction companies, is set to start renovations for the Howard County Medical Center that will include a new canopy, an improved entry to the emergency room, remodeling of the ER waiting room and an expansion to the hospital's laboratory.
"With a new canopy, heated driveway and elimination of steps, the entry into the ER will be much easier to use for patient drop-off," said Mark Benjamin, president of BD Construction. "A lot of time was spent talking to ambulance companies and local emergency providers to determine the best approach to satisfy their needs as well as those of walk-in patients."
Benjamin said patients will also benefit significantly from the expansion of the existing laboratory because it will allow a broader range of laboratory tests to be done on site while creating a better work environment for technicians.
"We chose BD Construction because of its expertise in rural healthcare, but also because of its understanding of our budget and goals," said Arlan Johnson, CEO of the Howard County Medical Center in St. Paul, Neb.
Johnson said the renovations are being undertaken with donations to the Howard County Medical Center Foundation and that no additional debt would be incurred.
"Our facility is county-owned and community-sponsored, so our budget is limited," Johnson said. "BD Construction understands the goals of the project and is working with us to keep quality up and costs down."
Construction is planned in phases to make sure access to the emergency room is uninterrupted. The project is expected to be completed by fall 2014.
About BD Construction
Founded in 1960, BD Construction is one of the Midwest's leading construction companies with a lengthy history of large-scale building projects of every description — from hangars to hospitals to hotels. As design-build and construction management specialists, BD is capable of handling all aspects of a building project, starting with the initial concept and floor plans, and continuing through site selection, design consultancy, project finance coordination, permitting, construction and evaluation of the finished project. BD Construction is eligible to participate in LEED-qualifying projects, where the focus is on sustainable design, construction and operations while utilizing green building techniques. Connect with BD Construction on LinkedIn or visit www.bdconstruction.com for more information.
###