SCORR Marketing Achieves Google Partner Status and HubSpot Marketing Software Certification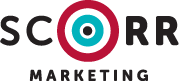 SCORR Marketing, a global health science marketing and communications firm, has earned recognition through Google and HubSpot as a premier provider of digital advertising and marketing automation.
Ryan Larsen, digital director at SCORR Marketing, has achieved Google Partner status, a companywide certification that demonstrates digital advertising expertise. To accomplish this, SCORR had to attain strict requirements, including AdWords spend goals on behalf of its clients, delivering agency and client revenue growth and sustaining or growing its client base. SCORR will now receive access to private Google events, Google beta programs, marketing support and a Google Partner badge and profile page.
Larsen also earned HubSpot marketing software certification, which is given to individuals who demonstrate measurable results in the theory and practice of inbound best practices, and how to use HubSpot to execute an inbound marketing strategy that enables consistent and foreseeable demand.
As the digital expert for SCORR, Larsen ensures that team members are also well versed in marketing automation, with experience and proven results on platforms like HubSpot, Pardot and Marketo, to name a few. SCORR researches and develops buyer personas, creates quality content to meet buyers' needs and uses that information for strategic, nurturing campaigns, ensuring its clients get the most out of their automation software.
"In today's digital environment, it is more important than ever to have a marketing partner with an understanding of technology and the best ways to utilize it within an integrated marketing program to communicate with your target audience," said Lea Studer, senior vice president of marketing communications at SCORR. "We appreciate Ryan's efforts to ensure SCORR is on the digital forefront for our clients."
For more information on SCORR's digital marketing capabilities, visit scorrmarketing.com.
About SCORR Marketing
SCORR Marketing is the leading marketing and communications firm in the health sciences industry. We partner with organizations involved in global research, development and commercialization of biopharmaceutical and device products and the delivery of health care products and services. At SCORR, we achieve results for our clients by applying our proven, disciplined approach to synthesize market intelligence, strategy and creativity. We have locations across North America and Europe. For more information, visit www.scorrmarketing.com.