Civil Engineer Kent Cordes Joins BD Construction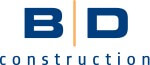 Kent Cordes, a professional engineer with 20 years of design engineering and project management experience, has joined BD Construction, Inc., one of the Midwest's leading construction companies. Cordes' work for the construction firm will include civil engineering and project management services.
"We're excited to have Kent join our company," said Mark Benjamin, president of BD Construction. "He has worked as a consultant on some of our projects in the past, so we know he will fit in well with our team. He has a great deal of experience dealing with site design, surface water drainage issues and stormwater runoff, which will be valuable to our projects."
A native of York, Neb., Cordes holds bachelor's and master's degrees in civil engineering from the University of Nebraska-Lincoln and successfully obtained his Professional Engineer (P.E.) certification in 1998. He most recently worked at Miller & Associates, a Kearney-based consulting engineering firm.
Cordes has designed commercial, industrial and residential site and stormwater management systems and has extensive civil design experience on many projects, including flood control systems, roads and bridges.
About BD Construction
Founded in 1960, BD Construction is one of the Midwest's leading construction companies with a lengthy history of large-scale building projects of every description — from hangars to hospitals to hotels. As design-build and construction management specialists, BD is capable of handling all aspects of a building project, starting with the initial concept and floor plans, and continuing through site selection, design consultancy, project finance coordination, permitting, construction and evaluation of the finished project. BD Construction is eligible to participate in LEED-qualifying projects, where the focus is on sustainable design, construction and operations while utilizing green building techniques. Connect with BD Construction on LinkedIn or visit www.bdconstruction.com for more information.
###